CHILDREN

KID'S KIT Includes generous 250 tablet bottles. 30X potency for safe and effective use. An excellent booklet is included inside the kit's container. The booklet lists keynote symptoms and illnesses for each remedy. Reading the book and becoming familiar with the remedies will help you become confident in using your kit to treat immediate problems and prevent worsening of the symptoms.
Each bottle is regularly retailed at $6 making the Kid's Kit a value of $70.00!



KID'S KIT - A Best Buy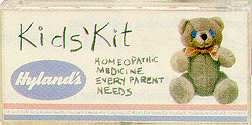 Other Important Children's Remedies and Products
HOMEOPATHIC CHILDREN'S EARACHE TABLETS



NEW earache formula from the trusted name of Hyland's. "Earache Tablets" are an important addition to a young families natural medicine cabinet. "Earache Tablets" are a combination of Pulsatilla, Chamomilla, Sulphur, Calcarea Carb, Belladonna, Lycopodium. 40 tablets $10.99. This higher 30C potency formula is indicated for relief of fever, pain, restlessness or irritability of earaches for the daytime or at night.
Easy to chew tablets and no taste make them easy to give to children. Homeopathy is safe for all ages and is without harmful side effects. Homeopathy works WITH the body to strengthen the immune system.

While it is important to see your doctor for any questions you have with a child's earache, and to use properly prescribed antibiotics for earaches that show bacterial infections, parents can use homeopathy and the Earache Tablets to help with acute earaches prior to test confirmation of bacterial infection.
Here's a breakdown of remedies and matching symptoms:


PULSATILLA (Passion Flower) matches the ill child who is extra clingy and whiny. This child has the changeable symptoms, physically and emotionally. May be happy one minute and very sad the next minute. Pulsatilla is indicated for earaches with red swollen external ears. Pain is worse at night and in a warm room. Earaches following colds. The mucous discharge is yellow or yellow-green. Pulsatilla is a top children's remedy for both acute and constitutional treatment.



CHAMOMILLA (Chamomile) is for the irritable child. Overly sensitive to illness and pain. Snappy and contrary to anything the parents try to do to comfort the child. Yet they like to be carried. They feel hot, are worse with heat and worse in the evening prior to midnight. Earaches that accompany teething or diarrhea. Chamomilla is another important acute and constitutional children's remedy.



BELLADONNA (Nightshade) is for the earaches that come on very suddenly with a high fever. To the touch the child feels like they are burning up, but are not perspiring. Belladonna and Ferrum Phos are the top 2 fever remedies and should be in every family's home. Belladonna indications are for the child that is feverish when sleeping, crying out with nightmares. Earaches that are better with warm applications.



LYCOPODIUM (Club Moss) symptoms are ear congestion and discharge. Symptoms with irritability worse from 4 pm - 8 pm. Noises in the ears. This child has a sensitive digestive system with bloating, indigestion, gas, constipation.



CARCAREA CARB (Carbonate) children get ear infections and colds easily after exposure from the cold weather. They feel worse after exertion, open air. They have baby fat and perspire about the head during sleep. Stool and mucous discharges are sour smelling. Worse after midnight and upon waking in the morning. Glands in front of the ears swell. Complain of heat, noises, and a pulsating sensation in the ears.



SULPHUR (Homeopathic Sulphur, no relationship with Sulfa drugs) is indicated for the earaches with red ears and perspiration. Stool and mucous discharges are smelly. Child complains most when standing, at 11 am, from the warmth of bed, from baths. Worse on left side. Sensation of blocked ear, worse after blowing the nose with cracking noise in ear. (EARACHE TABLETS-$9.99) Earaches Tablets includes a bonus of a 14 page mini booklet all about treating earaches in children!
CLICK HERE FOR PRODUCT DESCRIPTIONS WITH PICTURES IN THE CHILDREN CATEGORY